Let SDDI Signs guide you through the process of getting extraordinary signage designed for your business or corporation. We explain each aspect of signs and sign design, such as environmental graphics, materials, green signage, wayfinding, dimensional letters, exterior signage, interior signage, and digital graphics.
Environmental Graphic Design (EGD) embraces many design disciplines including graphic, architectural, interior, landscape, and industrial design, all concerned with the visual aspects of wayfinding, communicating identity and information, and shaping the idea of creating experiences that connect people to a place.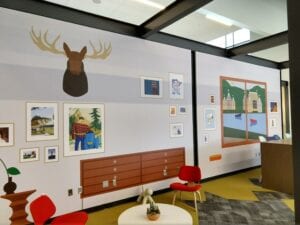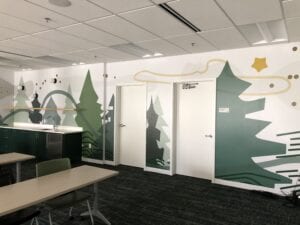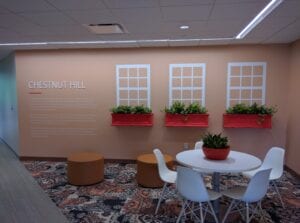 Whether it is a 50' pylon, stone monument, digital display, or a simple post-and-panel sign, we can create an exterior sign solution to fit your needs. Choosing colors, material, size, and design can be rather challenging. Our experienced consultants and designers will listen to your needs and help develop an exterior sign solution to define your image.
Our craftsmen will use state-of-the-art water jet and computer numerical control (CNC) technology to manufacture a precise and high-quality product that will function and last for years to come. You can rest easy knowing that our exterior products often exceed our clients' expectations.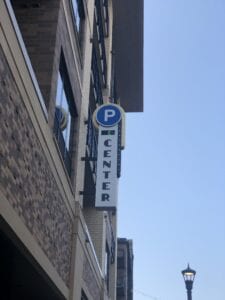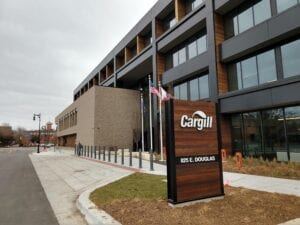 Let SDDI Signs create an interior sign system to complement your facility. Our team can help with everything from room conceptual design, to wayfinding, mapping, manufacturing, and even installation. We are also experts on American Disabilities Act (ADA)-compliant interior signs.
Our understanding of today's contemporary materials and their use within your design can enhance your visitor's view of your establishment. Choose from a wide selection of materials including acrylic, wood, laminates, 3form, stainless steel, aluminum, and bronze to design and develop a high-quality interior package for your facility.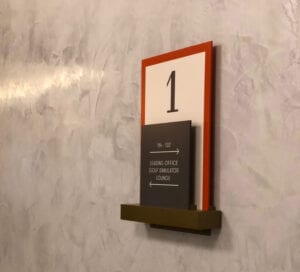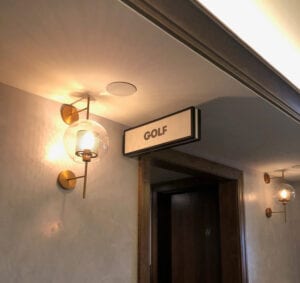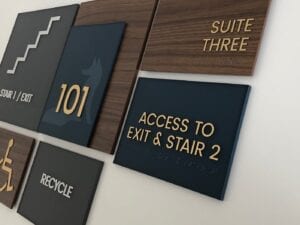 The art of wayfinding is a process to orient visitors to your building and guide them to their destination while minimizing confusion. Our thought process is to identify and direct when creating the wayfinding schedule.
Our consultants work with each client to evaluate their project needs. We provide a successful solution that meets Americans with Disabilities Act Accessibility Guidelines (ADAAG) and local accessibility requirements.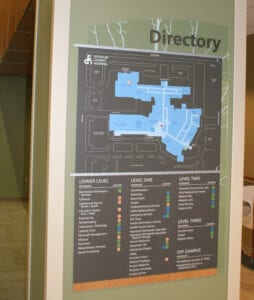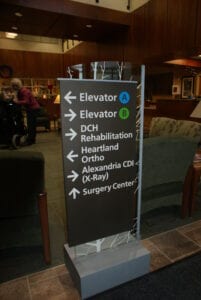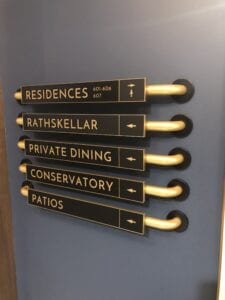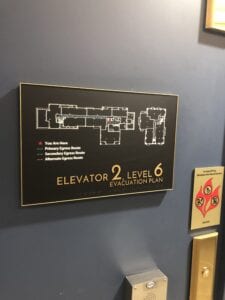 Our digital abilities allow us to create products like large mural wall graphics, banners, vehicle wraps, wallpaper, on-site signage, window clings, and posters. We can also print direct to just about any substrate. This includes, but is not limited to, Styrene, Sintra, Gatorboard, and Foamcore. Our ability to print direct to any substrate allows us to provide the latest technology in printing for your custom-designed signage. Let us see if digital printing is right for your project.
SDDI Signs houses a Roland SOLJET Pro III XC-540, which prints a maximum media width of 54". The SOLJET has a maximum resolution of 1440 dpi and functions in a 6-color CMYK format.